Sorry for the delayed post. A lots been going on but I haven't felt compelled to write until now so I'll cram in a week's worth of info in one shot. Bear with me.
Mom was here last week to help me since I'm not fully functional with my broken foot. I'm much more mobile now that I'm in a walking cast but the fact that I'm not playing softball is still adding a little sorrow to my limp. My nearly undefeated team has now lost their second straight game without me. I'm not saying I was the good luck charm, I'm just saying our once 4th place team just lost to the 14th place team in my absence. Coincidence? I think not. Go Bearcats!
Mom was a big help. Not only did she attempt to clean my disaster zone of a bedroom she also spent hours scrubbing our disgusting soap scum filled shower. And they say Marines are brave. She also helped me in my time of need. My roommate is getting married tomorrow and her entire fan club of family, friends, and shomeret were stationed in my apartment. If I were alone I may not have gotten out alive. Mom, you were quite the trooper!! You deserve the Medal of Honor. And I deserve a Purple Heart.
I saw Tim McGraw last week. The show was incredible as usual and my seats were unbelieveble. Too good to be true? You got that right. The second I got out my camera to take a picture (and video, shhhh, don't tell Madison Square Garden) my battery died. I've never had such awesome seats for his show and I couldn't even record it to prove the verity of my seat assignment. Taping the concert would have been perfect. I could have fast forwarded his snooze of a wife's entire performance. Faith Hill, you are cute, but you should have ended after your opening performance. The crowd was there solely to see your husband. Sorry honey, but its the truth. The day you look that hot in tight jeans and a cowboy hat maybe we'll allow you to add a song or two. Since I didn't take pics I pleaded to my Tim Fan Clubs for photos and videos they took at the MSG concert. Finally Brendan from MySpace stepped up and led me to his incredible pics and video from the concert. Two pics are shown below. Thanks Brendan!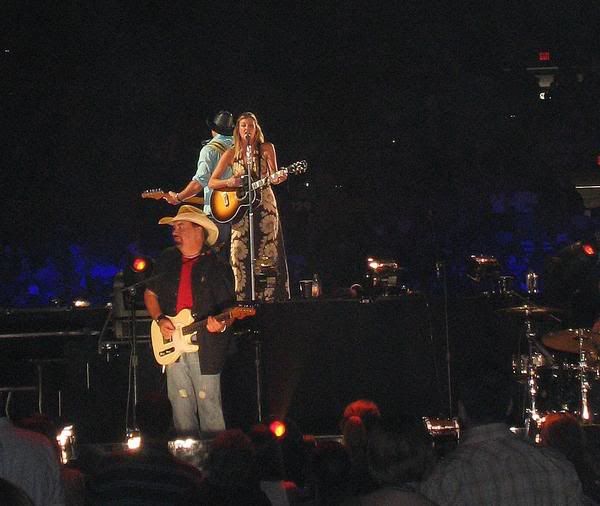 Tomorrow I have work. Ridiculous but true. My entire job is about calling people in their offices. It will be tough when no one in their right mind is going to be working on Monday, July 3rd. Except me and the rest of the NJOP staff of course. I think I might actually take a lunch break tomorrow. I know, unthinkable huh? I haven't really since Megabite closed. In protest of course. Nowhere yummy to go so why bother to leave? If you want to join me I'll be in Bryant Park at 1 pm. I'll be the one taking off her cast to prevent getting the most heinous farmer's tan ever in the history of the world. Seriously, a tan from the midshin down? Yeah, that'll get the boys running...away from me. Peace.